With our new lasers and new flooring, we want to show off our laser room with new furniture. What better way than to have laser cut tables for the lab. And who better to design it than our members! We are looking for your design for workstation tables in the Laser Lab.
What's in it for you? The winner will receive $50 off any class at Asmbly!

With lots of new specialty tool and special topics classes getting lined up for the schedule, this is a pretty exciting reward! And of course, your table design will be used at all of the laser stations.
Here's the layout for the laser room – You are designing those green computer stations.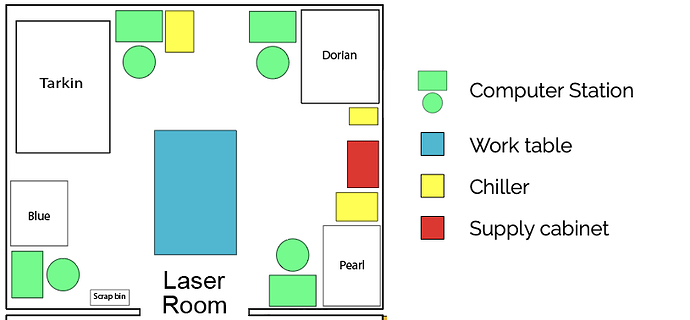 Proposals must be submitted by midnight February 13. You can submit a proposal by posting a link to a Google Doc with info on this thread or if you prefer you can email it to membership@asmbly.org. Proposals should include a material list as well as design specs. We'll announce the winner here on Discourse!
Criteria:
37" tall - drafting table height
2' x 3' top surface
3/4 plywood stock that can be lasercut and assembled. Other hardware optional based on your design.
Room for monitor arm mount to the tabletop like this one from Amazon here
Undermounted shelf to hold a PC workstation (tabletop portion will just have monitor arm, keyboard, and mouse)
You can propose embellishments, trays (@JoeN has a good tool tray here that will work well for Blue and Pearl, we just need a volunteer to CNC it), location of the PC shelf, etc. We do want to keep the PC off the floor and NOT on the top work surface.
So 3/4 plywood, laser cut, 2'x3' surface, 37 inches tall – GO!