I was in the shop today for the first time in quite a while. Several machines had, at best, a simple swipe with a brush. Dried glue drops on work tables. And then I opened the bandsaw. It had stratified layers in it, by species.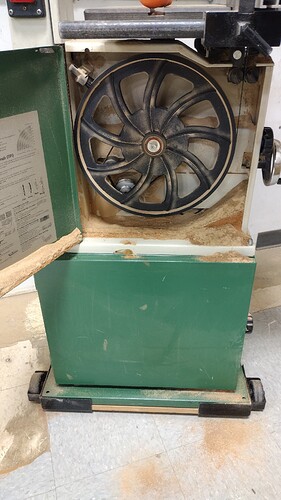 When you use a tool, you need to clean the tool. For bandsaws, that involves opening the top and bottom doors, and vacuuming them out. It's really helpful if you clean up a large radius around a tool, or your work station.
We don't have anyone to clean the shop but us. If you don't clean up, someone else has to, and things can degrade. Sawdust on the floor is a safety hazard. Running equipment while it's clogged shortens the life of the tool.
If the equipment is dirty when you get to it, report it. Any red QR code will take you to a Google Form to report any kind of problem. Photos are helpful, and you can attach them. After that, please clean it up. It's not fun cleaning up someone else's mess, but don't contribute to it, and leave it for the next person.
If a trash can is full, take it out. Don't look for one with room, then put something in and go home. (Laser offcuts in the woodshop?). Combine a couple together, and take one out.
Check the dust collector, the chip can at the planer, and any portable dust collector bucket. If you use it, empty it - even if not full.
A clean shop is not a provided service. It's a responsibility, for everyone.