The Project
We're finally building the new central worktable for the laser shop which will provide a completely open, flat 4'x6' work area (all tools will be put away in drawers!) with inlaid cutting mat, as well as shelves we will be stocking with plywood sheets members can purchase onsite. This will be a sweet member perk for those who come up with great ideas on the weekend and hate the limited options at big box stores, as well as those with vehicles difficult for transporting sheet goods.
This cabinet is massive and as such is designed to be compatible with a skid jack for moving it around as needed. Here's a model to give you an idea of what it will look like for the most part: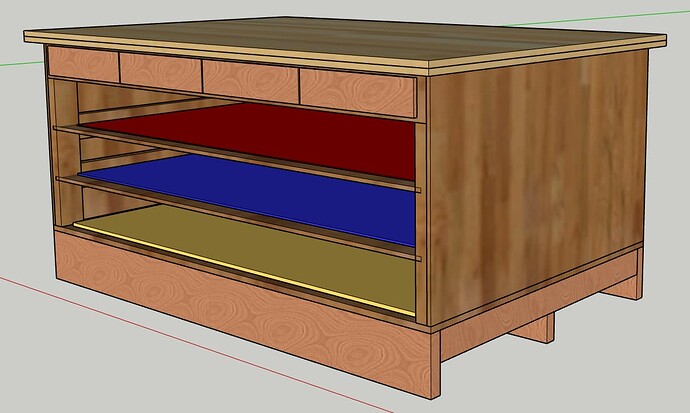 The shelves will be dado'd in from 3 sides and have a hardwood L brace on the front edge that fit into the dado in the front (not shown in model) to provide maximum rigidity for the shelf span while minimized additional weight. If we find down the road that this wasn't enough support, we can always add more reinforcements later. However, we will be going with this design to start.
The Ask
We already have the plywood for this project on site and I'm going to pick up the 2x4s and 2x8s this evening. We goal is to build this thing during our work day tomorrow, so I'm looking for:
Today – Someone(s) to help breakdown stock material today to rough dimensions (cut list PDFs in this folder here) (slop already added to these PDFs).
Today – Someone(s) to help stain 2x materials so they look a little nicer. This will probably be a somewhat later evening task, as it's likely to be a few hours before I get up there with 2x materials and they will need to be broken down first.
Tomorrow – Someone(s) to work with @torchedguitar and I on assembling this beast. Bonus – pizza will be provided!
---
Let me know if you're interested in helping! There's a good chance #3 ends up spilling over Sunday, so if you are interested in that part and not able to come Sunday, let me know.