I have upgraded the computer from the Dell to a small fanless NUC, and updated the Linux distro and upgraded to LinuxCNC 2.8.2.
If this causes any problems, the prior machine is still right there, and we can move the cables back over to it. I MAY have forgotten to tighten the DVI cable going into the monitor so if someone can do that that'd be great.
The operational things to know:
The power switch is on the NUC with a big label pointing to it as shown.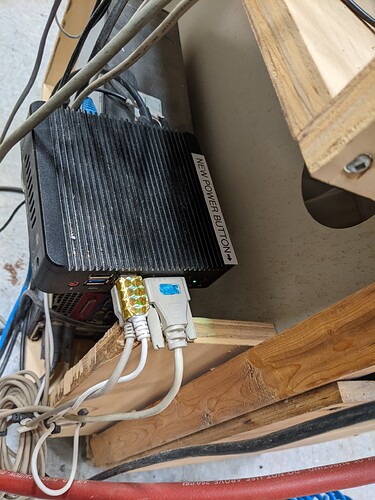 There is no longer any password prompt.
It will start running LinuxCNC automatically upon powerup, so you want the machine's driver box power on first.
Do not lock the screen, as it takes the admin password to unlock. If it's locked, just power off the computer and restart it since the login is not required.
All unracking is now done automatically with Home All. Manual unracking against the stops is not needed, nor possible.
Prior to homing, you are in "Joint Mode" and the axes are numbered 0,1,2,3,4 instead of X,Y,Z. You just hit Home All from here anyways, same as before.
You cannot jog the X axis while unhomed (in Joint Mode). You can still jog the Z and Y.
There is no need to turn off the NUC computer when done. It is fanless and does not collect dust inside. You might turn off the monitor. You'll still need to close LinuxCNC itself when powering down the box.
Nice new improvements:
No login required
Auto-unracking of the gantry
Auto-mounting of your flash drive
When you hit "Open file", it goes straight to your flash drive directory
Rotary "A" axis is available