I spent several hours doing various cleanup things at the space this weekend and thought I'd fix the loose paper towel holder in the shop bathroom "real quick". Unfortunately, I ended up breaking it more…
The original place it was mounted was doomed to never be fully secure against the wall because the sheetrock was bulging away from the wall thus always leaving a jiggly gap. I suspect this may be because there is a stud or something else solid behind this spot and thus the anchor reached a point where it simply started pushing against whatever solid material and pulling the drywall forward.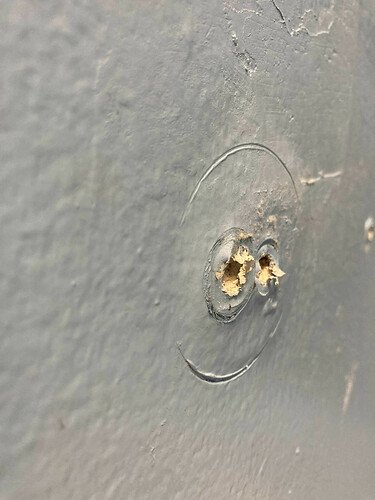 I tried moving it to the wall the mirror is on right above the trash can after confirming dry wall only there (I think that's also maybe a better spot) and tried to reuse the drywall anchors but had one completely break on me leaving it stuck in the wall.
I left the paper towel roll on the hand rail and put the pieces for the towel rack in the cabinet. Can someone pull out the stuck anchor and fix this? I think the spot above the trash can will be the best place for this to live, but we'll probably need to adjust it down a bit as I imagine the holes I made are no longer usable.