I have an odd mystery here. The quick version: ten of these 3/8" beam clamps have gone missing, and this happened sometime before the work day started on Saturday morning. We need them back.
.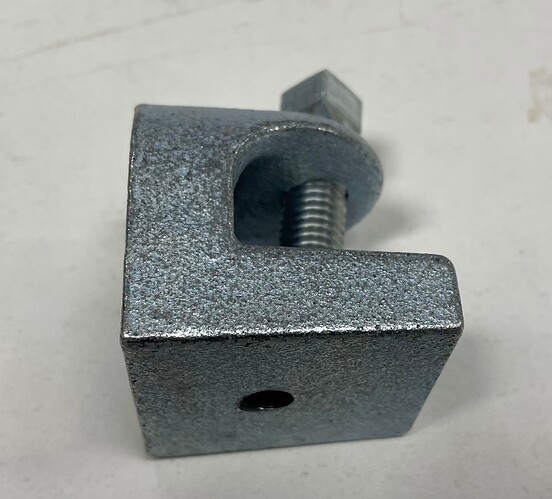 .
The 3/8" in the item name refers to the size of the hole tapped in the bottom. These are massive, about 2 inches wide and tall and probably weighing a couple pounds each. These aren't something easily overlooked or incidentally moved.
.
.
More details: On Thursday, Charlie got the 3/8" beam clamps I specified for the work day, and I realized that they were far heavier duty than needed. I then got a bunch of smaller beam clamps on Friday, and Charlie and I planned on returning the large ones.
.
I know there were 16 large clamps, spread among three sets of doubled Home Depot bags, when Charlie gave them to me on Thursday.
.
I also know that, first thing Saturday morning, I started a to-be-returned box, and I could only find six of the clamps then.
.
Overnight Thursday and Friday, I left everything on the top middle shelf of the storage area, with a note saying "Ethan's Work Day Stuff". I thought they were in those piles, though I didn't check for them specifically.
.
I keep wondering if I misplaced them on Thursday or Friday when I sorted through everything Charlie had gotten me. But I quite deliberately did all of that in one area and reconsolidated everything before storing it. Still, that seems more likely than someone taking them, since they would be of no personal use to almost everyone.
.
If you saw these at some point last weekend or come across them later, let me know.