In the last few months, we have come across a couple of instances where people were making unsafe cross cuts on the table saw. In both of these cases, the individual was making a cross cut without a sled and using the fence as a guide for the cross cut. This is a dangerous way to make a cross cut. Using the table saw improperly to make a cross cut can result in a serious kickback injury. The Sawstop has a great safety feature with the blade brake, but that only protects your fingers. Injuries from kickback are still all too possible.
Kickback is where the saw blade catches the material and tries to launch it out of the saw. In a rip, it may take the offcut and launch it straight out the front of the saw. On a cross cut, it can actually launch up into the air, towards you. Without a sled or miter jig, the two parts of the workpiece do not stay straight, and can catch the blade. In a cut using the fence, the off-cut piece can twist as it separates. If it then wedges against the fence and the blade, it can become a projectile.
When you make cross cuts on the tabel saw you MUST use a sled or the miter jig. You MAY NOT place the fence against the end of your material.
There are ways to safely use the fence for set length repeat cuts. You can set up a rip fence offset block, as shown in this video.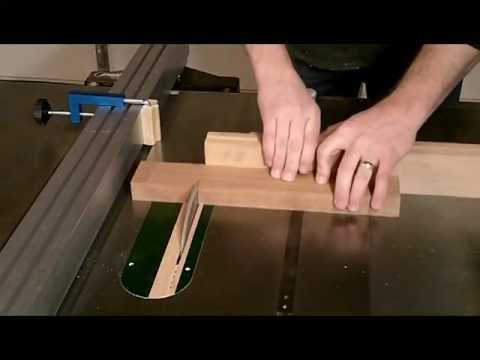 If you need to make a cross cut and you do not understand how to set up the sleds, or how to set up an offset block, please ask for assistance.
If you want more information on kickback, here is a good video discussing the dangers. Actual Kickback (in Slow Motion), & How to Prevent It - YouTube