hey metal peeps,
I have an idea to create a modified a clamp we use at my dayjob a lot that would allow us to strap things to irregularly sized / shapes objects with hose clamps of varying sizes.
The main jist is to make an aluminum T (general idea marked in blue lines) with a tapped hole in the bottom, and two through channels at the top to route hose clamps or even zipties through (red rectangles).
Ideally, the business end would have a grooved channel to give it some more bite on rounded or angled shapes like railings / tent poles, basically a wide V.
The only restraints really are the dimensions of the square end with the tapped hole so it still fits into our current gear, and the threads in said tapped hole to match our current bolts.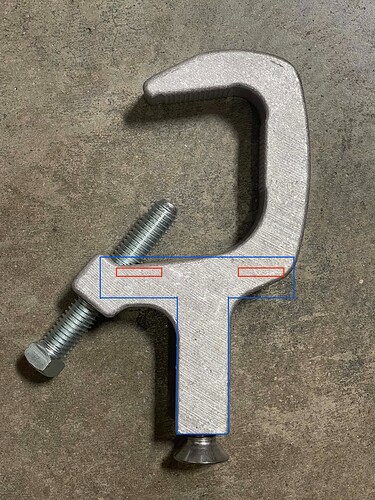 Since I know jack about metalworking, how difficult would this be to make?
Is this something we can do at Asmby?
We would be looking to make 100ish of them at most