I could not get Tarkin to consistently cut… pretty much anything earlier today. Tried several variants of plywood. Clearest example of something that should cut just fine was good-quality 6mm Baltic birch. At one point, I slowed it all the way down to 10mm/s and still couldn't get consistent cuts all the way through, and when it did cut it was very char-y. Same piece of birch had no issues cutting previously.
@jamesfreeman was there toward the end of my session and took a brief look at the lens and such, but didn't see anything obviously wrong. A few specific notes from basic troubleshooting:
Lens was clean (in fact, looked very clean)
Chiller read under 20C
Air seemed to be flowing fine
I didn't notice any specific patterns w.r.t. location on the bed where I was trying to cut. I do tend to cut toward the right side of the bed since it is close to the workstation, but I tried a fair amount of cutting near the bed center overall as well.
At first, I presumed a focus issue, but eventually tested a fast text line engraving at standard 7mm focus distance and it was crisp.

Along the way, I tried to vary be height +/- about 2 mm just to see if it had an affect, but nothing consistent happened.
Example image showing the difference between a fast surface line engrave (crisp focus) and the sloppy/charry effect of trying to slow down enough to cut: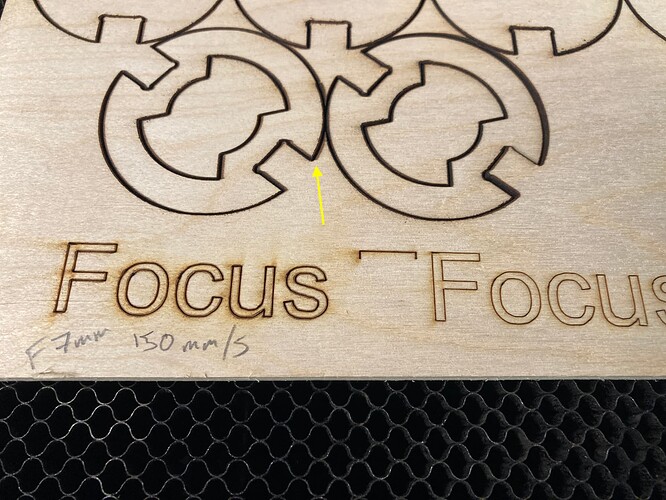 Along the way, I did observe an odd sort of "optical artifact" that I don't remember seeing before on Tarkin. There was a sort of "lens flare" (wrong term, perhaps, but that's the visual impression it gave) just to the right of where the beam should be focused. In other words, a much wider area of the wood was lit up than just the area where the beam was cutting. See example image… I wondered if perhaps it could be reflection off of the edge of the cone if that were misaligned? Or some other optical aberration? Note that this flare only showed up intermittently, not consistently during every cut / movement.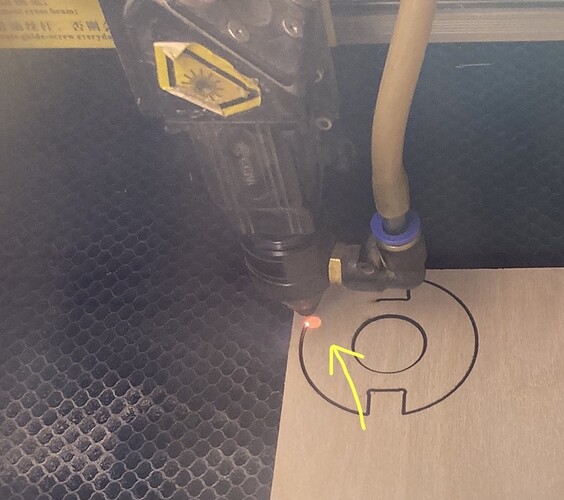 Finally, I wonder if what I observed might be related to mysterious sub-par performance observed by @Bwarez a couple weeks ago here: [Resolved] Tarkin not working
If it goes away just as mysteriously, that's all well and good, but this inability to cut cleanly really delayed my project.