Will there still be a class tonight if the Red Laser is down? Many thanks!
@Bwarez can make that call. I would normally say Blue could be used for the class if needed but it's already booked tonight during the class time. I'll be up there using Blue at 8p and don't mind sharing time a bit if the class ends up needing it.
We can still have classes as long as the plan remains to get a transfer class to use the new laser. We introduce a lot of information about lasers and materials. I wanted to swing by there today but I spent the day south at the Audiomaster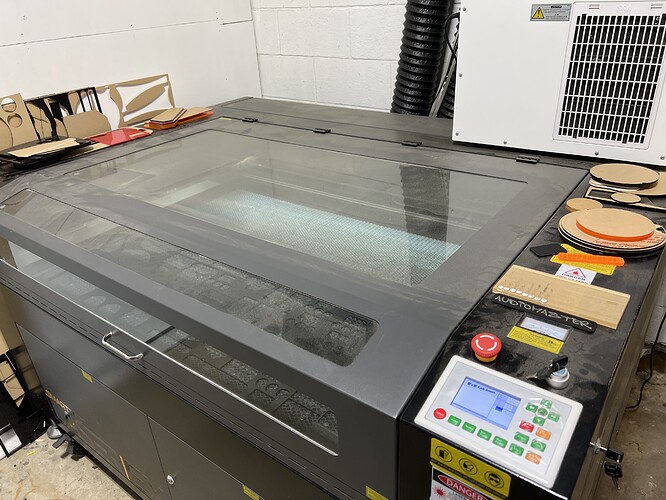 laser.
I'll definitely look to see if there's anything new I can think to do with Red. I do think its encoder on the X servo has gone bad, and it's not a readily replaceable part, thus the emphasis on getting Tarkin online ASAP.
Red laser class was a success although the computer was a pain to turn on and it never connected to the internet. We rastered a few letters and most of one star so that we could get a head crash error. We discussed supplies and basic laser operations. Everyone who attended the class is ready to get cutting.
We did cut out a few pieces and vector etch a few things as well.
RED Laser not working in Y axis
No sign on laser
Wasted signup Time
Wasted Time Driving over
Blue is DOWN !!!
Pearl does not have Corel Draw, so for some of us it is Down.
(Have been asking for Corel on Pearl since January.)
When will a Laser be Functional for Corel Users?
Pearl has a trial version of Corel on it so it's fine.( a licensed version will be installed in a couple days)
Blue will be back up in a few days and the large laser will be up hopefully within 2weeks
Red is no longer available for booking in Skedda. It is not likely to be added back in as available.
Sorry, I listed it here as red-tag but I can't add and remove red-tagging on Skedda
My focus has shifted to getting Tarkin ready for member use. Red can't see the homing sensor but I don't know why.
Blue will of course be fixed. Pearl is being used now, it's an equivalent bed and very similar interface, and actually will outperform Blue overall. But the machine didn't get Corel loaded on it yet
edited by Valerie to correct that Corel is indeed loaded on Pearl with a Trial version that works per Eric's comment above:
Thanks all. I was going by the forum post, so I didn't power up Pearl. I will signup on Pearl.