I'm interested in fabricating a very niche piece of equipment, a rotating fluidized bed dryer. There are minimal references to go on, pretty much a few academic papers out of a lab in Japan from 2003-2013. Nothing like this is currently made commercially. I reached out to the authors, but it was a dead end. The last of the work was done almost 10 years ago, and they didn't have any additional pictures or documentation to give me.
The main design looks essentially like this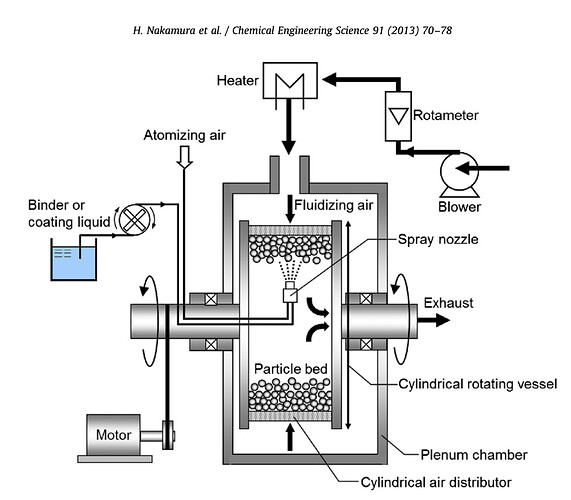 The principle is fairly simple, consisting of a rotating inner cylindrical drum inside of a stationary outer drum (~12" OD), with an atomizing spray nozzle passed through into the inner drum to spray a coating onto the particles in the inner drum. But I've been mulling this over in the back of my mind for the past couple days and I'm struggling to see how they were able to insert the nozzle feed lines (something like 1/8" tubing) into the inner drum considering the "axle" that they're fed through in the drawing would be rotating at ~250-500rpm, and that side of the system needs to be sealed. The obvious solution from the drawing would be to just insert the feed lines through the open end of the exhaust side, but the drawing is misleading since the exhaust actually runs to a filter.
The best solution I can think of currently is to have another tube within the axle, where I use an air-free mechanical seal to feed a 1/2" or 3/4" tube into the the inner drum, and feed the nozzle feed lines through that 1/2" or 3/4" tube. I don't even know if that would work though, because I'd have to mount the mechanical seal in a way that the seal is rotating while the tube is stationary, opposite of how they normally function. But maybe since the relative rpms are the same it doesn't really matter?
Can any of you think of a more elegant solution? If anyone is interested in reading the papers, I can send them to you. They do mention an "air seal" in one of the papers, but didn't expound on that.
This air seal seems like a cool piece of tech, but I couldn't think of a way to apply it here.