Hello All,
Wanted to recap the meeting @Jordanva2 , @michleon100 , & I had during the Entrepreneurs meeting.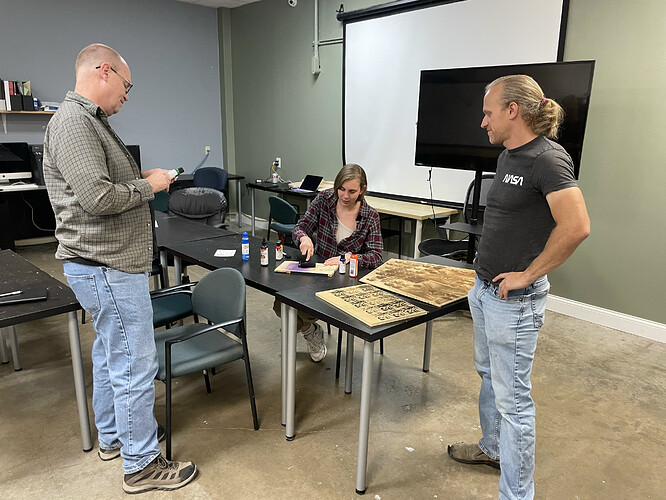 Prior Meeting Summary
@ashleyrlee was looking at 3D printing weed grinders, @cbrtrk discussed his undercarriage light work, & @Jordanva2 discussed some of her ideas with the laser cutter, including rotary cuts.
3/15/23 Meeting Summary
@Jordanva2 is looking to sell various art pieces & wants to test the market. She mentioned testing it at South Congress near Guero's Taco Bar. It's a terrific place for free market research! She said she'll set up pop-up shop & see what kind of looks she gets on South Congress. Hoping she tries it out & reports back to us. Types of items for sale? Items sold? Where was she located on South Congress? What did her booth have? What day of the week and what time of day did she get there? Learning experiences…?

@michleon100 is a great sounding board and is interested in trying many new things. While he's not looking to start a business per se, he does provide good feedback about our products. For instance, Michael pointed out that that there were different flea markets we could try out, like Austin Flea (https://www.austinflea.net/). It's open every Saturday 1pm-6pm). Booths run $50-$75 per event.

Michael also tried Wimberley (https://wimberleymarketday.com/). It's open the first Saturday of every month 7am-4pm. Booths are $75-$125. As an FYI this one requires a permit.

We also discussed setting up LLC's for our business. @Jordanva2 recently did this. I'm looking forward to learning more about how and why she set this up.

I am continuing to experiment with laser cutting, 3D printing, & CNC work. I'm hoping that I'll be able to put together a multidisciplinary project that won't look like it was made by a psychotic clown. I mean…unless you're into that, bc then I could sell you something.

On my end, I do think it's important to experiment while also creating original art. I create art by having a theme in mind. Then use Stable Diffusion AI generated images to create beautiful art. It helps if you have some attachment to the art so you can talk to the customer about what inspired it. I've gotten mixed feedback when I tell someone I designed something using AI. I get the feeling people may think it's cheapened somehow. I could be wrong, but I feel that way. Because of this, I'll most likely try to steer the conversation away from HOW it was created. I'll instead focus more on what inspired the art, and how it makes me, and hopefully, the customer, feel.

Other tidbits include using erank.com to scout out Etsy sales strategies, having the guts to try something new, & opening up about some of our business difficulties we rarely discuss, e.g. finances, how to set profit margins, how to do your taxes, etc. All the non-sexy stuff we all gotto do, and tend to put off till the last moment.
This meeting was a tremendous success. I invite all potential entrepreneurs to share and grow with us. It will make being an entrepreneur so much more fun when we know we're all in this together. And we are. We're a community of makers building some of the most random, beautiful, interesting, and inspiring shite imaginable. Let's make it fun. This is a group for all who have ever thought of trying something new. I invite you to join us at our next meeting on April 19th @ 7pm & bring some of your work. If anything, it's another opportunity for free market research!
PS: I threw out the time of 7pm for the next meeting because 5pm seemed a little too early for folks. Feel free to chime in in the comments if you'd prefer a different time.
Joaquim