TLDR: I made an outlet box for one of the misbehaving electrical cord reels; it should solve a number of issues. Try it, so we can decide if I should make boxes for the other problem reels.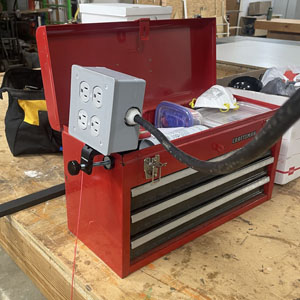 As most of you know, the electrical cord reels in the wood shop have a number of issues, mostly that the plugs have become so loose that cords don't stay plugged in. And, while all of them do have working springs for retraction, the ratchets (which keep them in place while extended) don't function well. In fact, I don't think the ratchets on the two western reels work at all.
I was looking for a solution for the first problem, and it turns out you can't get three-receptacle replacement ends, only single ones. But on some theater tech jobs I've worked recently, I saw they use extension cords with boxes on the end containing the receptacles; those boxes are called doghouses. So after bouncing the idea off a few official people, I made a prototype of something like that and deployed it on one of the cord reel ends today. (I chose the southeast one, nearest the router, because it had a break in the outer cord sheath that I wanted to repair with heat shrink before it became worse.)
The box has a number of features. We have four outlets rather than three. Every bolt that goes through the outer case is nylon, to ensure electrical isolation. (Probably overkill, but I've been zapped a few too many times by faulty wiring.) There is redundant strain relief inside the box on the main cable. And the main added feature is the attached clamp. It can swivel 360 degrees (a nylon nut prevents it from loosening while doing so) and opens up to about 1.6 inches, so it can fit around 2xN's. It can therefore hook under the table edges and stay there under the force of the reel's spring (without clamping). Or it can be clamped there, or anywhere else convenient. This addresses the issue of the failing ratchets, but it's handy no matter what. The cords have taken some abuse from the various ways people have held them in place; now it can be attached anywhere without any fuss.
I adjusted the cord stop on the reel so that the box hangs down to about 6 foot, 8 inches, well above everyone's head. A violently pink string runs from the bottom of the box down to about 5 feet, for easier access by shorter people. (I also adjusted the height of the two hanging air hoses and gave them violently pink grab strings to match.)
The total cost to make this was about $45, more than I had hoped. (I will note that this is similar to the cost of buying pre-made audiovisual tech doghouses, and they don't have the attached clamp, which was the most expensive component.) Now that I know what I'm doing, I think I can get it down to about $30, which I think makes this worthwhile. A new, cheap Harbor Freight cord reel would cost about $75; a new, high quality cord reel would cost $100-$150.
So try the outlet box I made for a while, let me know if you have any suggestions for modifications, and then we can decide if we want to make such boxes for the other troublesome cord reels as well, or if we'd rather just spend the money on new cord reels. (And if we do get new replacement or additional cord reels, I could probably come up with a way to attach a clamp to them if that aspect proves useful.)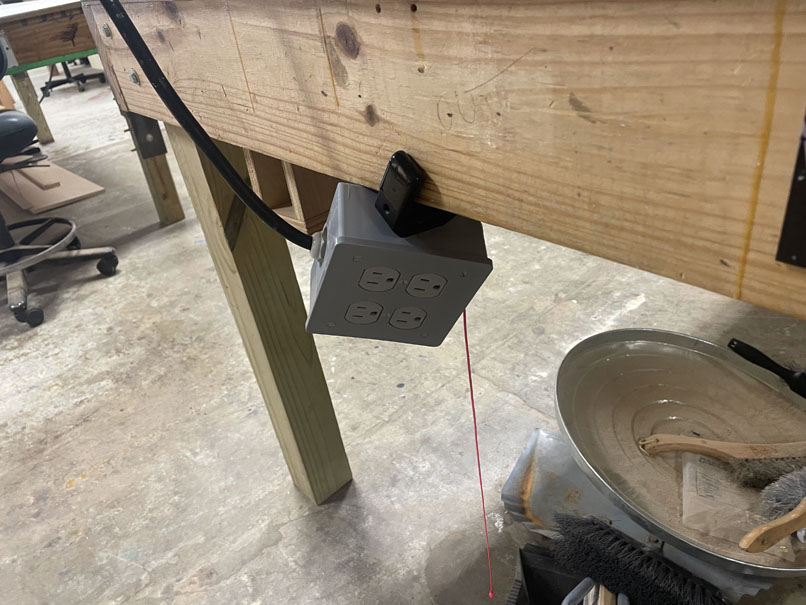 Box hooked, but not clamped, under table side.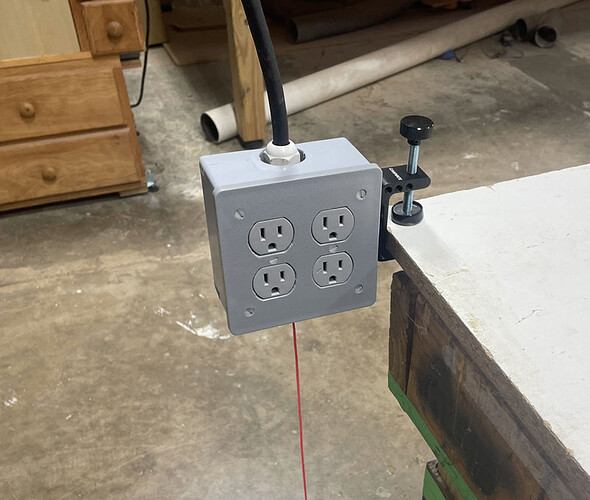 Box clamped to the table edge.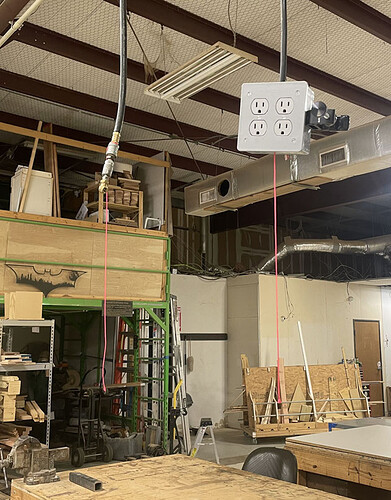 Box hanging, next to a compressed air hose, both with pink grab strings