High quality, affordable design software is hard to come by. Open source is a good option but often has ragged edges and an odd UI. Subscription software can be world class but the ongoing cost can really add up; you really need to use it a lot to justify the expense.
Buying high quality, affordable software is my preference but the options are limited. For many years my default was Corel Draw: Student & Home Edition. However, a few years ago I came to appreciate the Affinity suite of software which is remarkably powerful and occasionally cheap.
Affinity is having their periodic 50% off sale on all their software. I'm writing this note only to highlight their Affinity Design which has Windows, MacOS, and iPadOS versions. While it supports many file formats, SVG is why I'm writing this post. A free trial. You buy it and you own it, this is not a subscription. And now 50% off.
Curious? Check out the Affinity Designer YouTube channel.
Try it for free or buy it at half price, learn more here.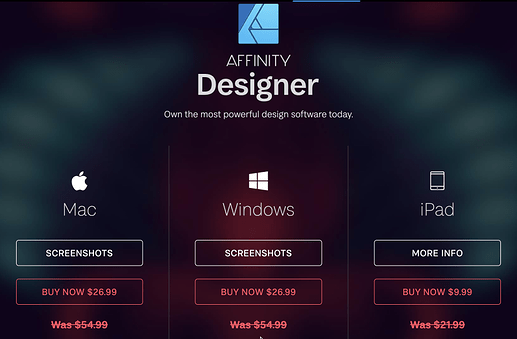 (I'm not one to promote things I don't personally value or don't use myself.)