I'm a little late with the work day recap and a bit light on photos so if you happen to have any photos from the day please do add them in this thread to share!
We had a good work day and tackled some important items. The turnout was not as large as some of our other work days, but the people who showed up were very skilled and worked hard to get some vital tasks completed even when it couldn't be done in one day. Thank you every one who showed up and helped out!
---
Highlights
Metal Shop
The metal and machine shop expansion began! A huge amount of work was done to move equipment into the new expanded configuration as well as unbox and set up our awesome new metal lathe that is being hosted with an option for us to purchase. The fiber laser build moved out of the finishing room and into the metal shop area to finish the final stages of the build. Several people helped move this heavy machinery around to better serve Asmbly's metal makers, but a special big thanks to @Andres79 and @mkmiller6 who put in a ton of extra hours to get machines moved and back online, as well as @Jon who has been continuously working to bring extra attention to this shop area and develop a really nice layout to give more space and function to our metal areas.
Textiles Shop
The design wall for the textiles shop got properly dressed with the fabric we had queued up draping over the wall. @xtina sewed it up nicely and securely attached it to the wall with just a few remaining areas left to attach. @CLeininger and @chowt8 applied edge banding to the central work table so fabric will not snag as members work on there.
Lobby Bathroom
@David took charge to get started on the ongoing project to remodel the lobby bathroom beginning with the tedious rinse and repeat cycle of patch, dry, sand to get the walls to a uniform surface for further painting. He, @ashleyrlee, and I are working together to completely transform this bathroom as well as the little nook sink area just outside it.
Laser Scrap Cart
@SafetyIII and @chowt8 jumped in with a design and cut list for the new laser scrap cart and straight away took ownership of their project working through the work day and several days after to build us a scrap cart for the laser room that better fits the space and allows for some organization of scraps. Thank you guys for rolling with my design and executing it so beautifully!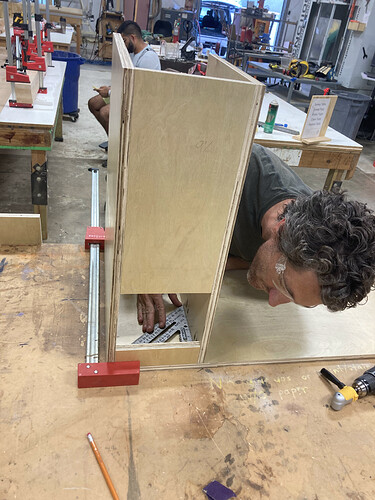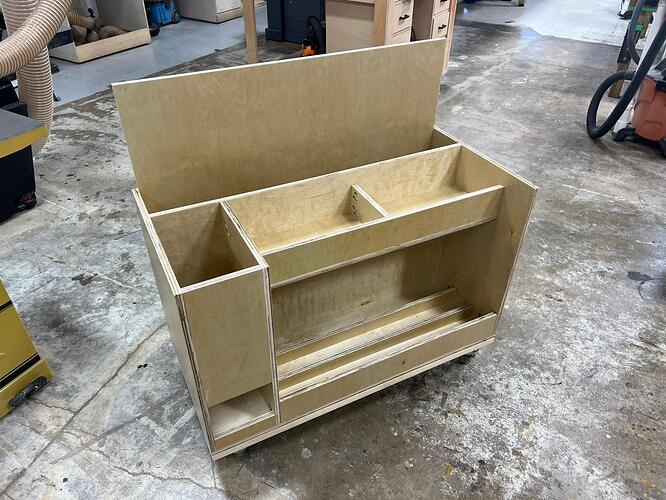 General Shop Area
Several important projects were addressed in the main shop area this work day including:
The old laser scrap cart was repurposed into a broom corral which has helped keep them a bit neater and less of a trip hazard.


A huge amount of electrical work before, on, and after work day was done by @mgmoore and @jamesfreeman. One of the items that will be most noticed in daily shop use is the new power reels. All three rows of power reels are now fully powered, so no matter which shop table you are working at you have power conveniently available and easy to reach even for us vertically challenged folk thanks to handy helper strings.
Lots of cleaning and organizing! Doug and Michael helped with the tool walls while @stepho did a huge amount of sorting and labeling for the stewards cabinet supplies.
@torchedguitar did the tedious ladder job of routing additional cables from the multipurpose room to the main entrance as well as the workshop entrance so that we could finally hook up our door ajar sensors. This has long been on the todo list so we can ensure proper security of the facility so it was great to be able to check this off!
@cfstaley and @mazsalimi did some further work on the dust collector to get the gates functioning for the miter saw and we also now have a floor wand hooked up to the dust collector that you can find to the right of the wood drill press under the miter saw infeed cabinet. To use this wand, just turn on the DC and open the blast gate at the back of the cabinet against the wall by the drill press.

---
Work to be Done
While we got some important work done, there are still many remaining work day projects that did not get completed. If you weren't able to contribute or are itching to contribute more, please consider helping out with some of these remaining projects:
Electronics Lab — there is electrical work to be done, walls need to be painted, and lastly new flooring installed (tile puzzle piece flooring, so simple, but will require lots of furniture moving).
Textiles Shop — the design wall is not quite finished. We need to add wood to the far left wall (when in the textiles shop facing the coworking door) and secure the fabric to this piece. We also need to do the same to the area that juts out on the right side.
Lobby — there is a lot of painting and caulking to do in the lobby as well as a few faceplates missing. I also have more pieces for the Asmbly mural on the fish tank side of the lobby queued up ready for painting. We've also got a lot of projects related to the bathroom and sink nook including refacing the lower cabinet as well as making and hanging new doors, removing the upper cabinet to replace with two open display shelves and much much more.
Expand Project Storage Area — As we moved the machine shop around, we came to realize we have a lot of wasted space under the stairs that we could be utilizing for more project storage area. We need help figuring out the best way to utilize the space.
There are several more projects as well, so if none of that floats your boat there are always more items needing attention. As always, extra extra big thanks to @cfstaley for the immense prep work he put into having projects ready and materials on hand to make our work days as productive as possible.
This makerspace is only as awesome and beautiful as we make it, so if you wish it was better in x or y way, grab a tool and get involved to make it so!