How about a fine adjustment stop block? A threaded rod, or screw that allows fine adjustment to a stop block.
oh darn… lol. I guess you can reuse the T track anyway
an odball one:a stop in the t track for the minimum distance to reduce inadvertent blade strikes?
Do you mean the T-Track on the top/fence? And how do you mean "Stop" if that's the case? Like, don't have T-Track in a 1" area left or right of the blade? @David mentioned that the flip-stop did trigger the brake, but it was because someone had the flip-stop sitting on the bed of the sled.
"A common mistake that people make when trying to design something completely foolproof is to underestimate the ingenuity of complete fools."
– Douglas Adams
Or something to that effect.
I was thinking last night that I could make two sleds. Both of which will be consumable-minded, and designed to be cut/assembled in an evening.
One that is big and dumb.
Another that is small, light, and full-featured
I have this kind of setup at home and it's served me pretty well. As well as it offers redundancy. (the miter sled should do that as well, but for some reason, folks are reluctant to use that as a cross-cut sled. Maybe it needs a "real fence."
I was thinking a of 3d printed pla arm vs an al one. I know we can't stop every tool strike.
I was thinking of possibly installing a block in the top t track to keep the minimum distance. Might be a moot thought.
I'm going to make this 18"x36" sled which should be able to be reproduced on the CNC. I'd like it to be cut out of a single material/sheet but weight starts to become a concern (the last one was fairly heavy despite not even using BB). This will use the same Incra 18" Steel miter bars that I put on the miter sled.
I'm going to recycle the old one as well into a smaller more featured sled.
We would do well to have some kind of sled carrier or storage carriage. Something better than inviting folks to throw them on the ground, or flip through them like a deck of cards.
Perhaps we standardize on a 16" oc hole pattern and store them with hooks on the wall?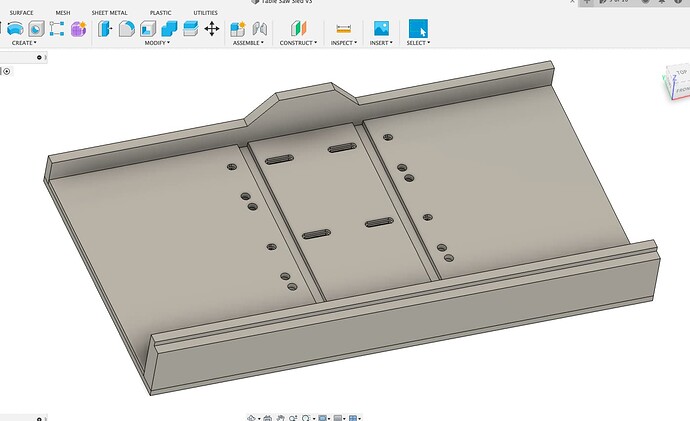 @jiggliemon - how many sleds do we have? Also, how many should we have? It feels like knowing that could guide storage design.
+1 for a hanging wall type situation
@Jon @mgmoore - do y'all have insight as to whether the studs in the main shop are at normal 16" intervals?
They are, but they're steel studs so screwing into them isn't super strong. Use toggle anchors.
@DirtHurt want to take a stab at designing a sled rack?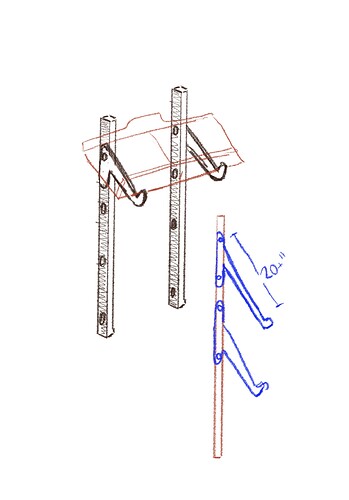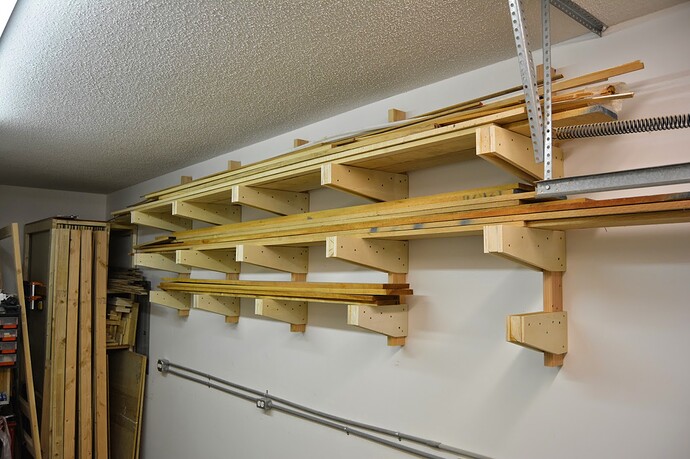 If we want to get fancy I certainly can, I was thinking something much simpler
Basically some simple cleats with a spinning wood toggle that holds them flat against the wall
A rack type situation might be better if we end up changing designs often enough
Maybe some simple shelf bracket shape supports that attach via French cleat
A system that displays them flat against the wall could be nice from an aesthetics perspective and make it easier to see all the options at a glance (dreaming big like we've got lots of options

).
I think that 4 sleds should do it, however… there are some special purpose jigs / sleds under the miter table, like corner spline sleds. That gear drive sled can get tossed. Great idea, but it doesn't run well now. Anyway, some of the smaller jigs can stay where they are.