You may have seen these new QR labels on most of the equipment.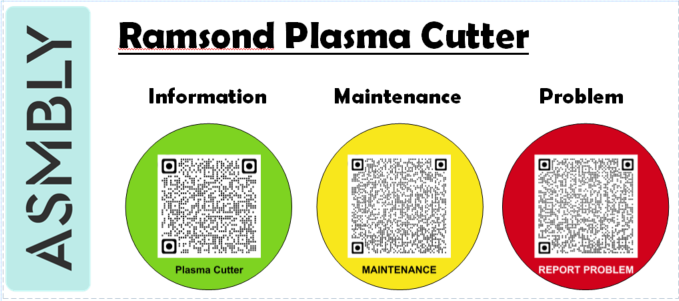 We are putting these on the equiment, as a convenience to help you and the space out. If you scan the green Information label, it will take you to the Wiki page for that tool. There you can find the manual. We will be loading short videos for some of the equipment over time.
The yellow Maintenance label is for stewards. When someone works on the machine, that will load a form for us to record what was done. In the next couple of months, you may hear more about a preventive maintenance program, and those will be helpful for record keeping.
The red Report Problems label is also on all of the tags, and it will be scattered in other places around the shop. If a tool breaks, if we're out of paper towels, if the air conditioner is leaking, or a huge mess, scan any red label, and it will take you to a Problem Report form. You can also attach a photo. This way, you don't have to wait until you get home, or wonder where to send an email. Snap, click, type and send.
This is all mobile capable.
It may be a little rough for a bit as this gets off the ground. So bear with us if it's a little wonky, but do let us know if it doesn't work for you.
Thanks!