If you've been in the shop the last couple of days, not only is the loft gone, but you've seen the huge new Laguna jointer. It jointer is operational, but it is important that you note some of the following.
We need to replace the braker with a time delay breaker. Until then, it may trip the breaker when you start it up. It doesn't do it every time. Reset and try again.
When you adjust the jointer up and down, you MUST pull and hold the lock-pin, BEFORE you rotate the wheel.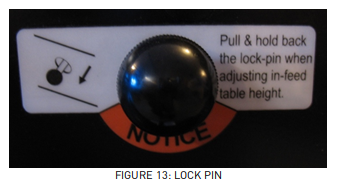 The jointer is very sensitive to pressure on the tail end of the board as you pass it through. You can press down on the outfeed, but try not to press down on the infeed. If you apply much pressure on the infeed, you can get some snipe on the last couple inches of your board. There is a Microjig Grip push block that is perfect for the jointer, since it has the drop down "smart hooks".
We do not have dust collection hooked up. That is waiting on the new large dust collector in January. We have to continue to use the old bin. Empty frequently.
For now, the jointer is set at about 8 inches, which should be enough for most tasks. We will set up a jointer class in the near future. In that class, we can cover some of the new capabilities that this jointer offers.