If you've been in the shop, you've probably noticed the upgrades to the lobby bathroom and little nook/sink area outside the bathroom. If you haven't seen it, feast your eyes now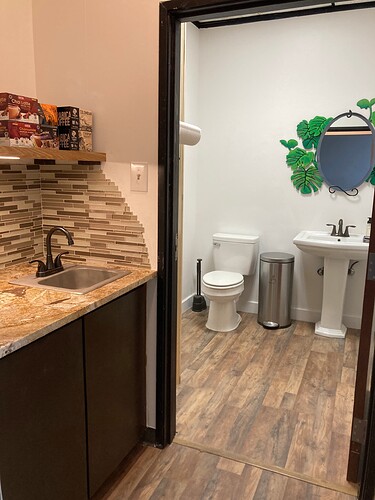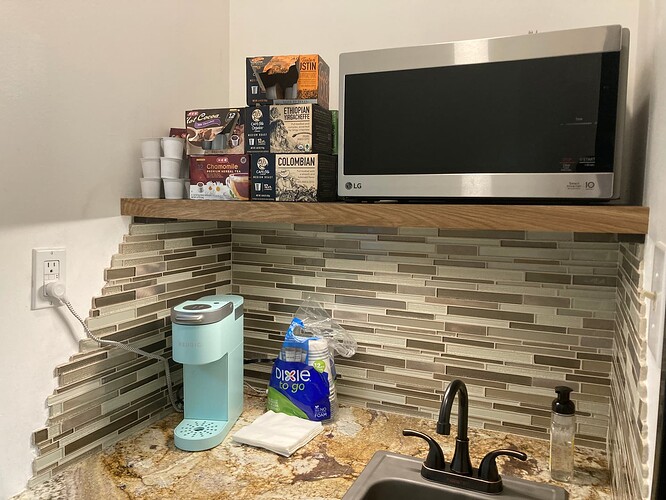 New pedestal sink, new mirror with hand-painted laser-cut leaf frame (painted CNC kookaburras coming soon!

), granite countertop, tile backsplash, faucet, shelf, etc.
We had a Asmbly colored Keurig donated along with cups and pods to get things started. We are setting up a general donation page with more payment flexibility than Neon to make it quick and easy for members to contribute to the Keurig supply fund as they take from it.
We also got a new smaller sleek microwave that will fit on the shelf here during Black Friday sales. It is not hooked up yet as we'll currently working on getting it on a separate breaker from the Keurig so that running them at the same time doesn't trip a breaker. The old microwave will be put up for disposition after we get this microwave hooked up.
---
It's looking great, but we've still got a few more things planned for this area –
Painted CNC birds on the leaf mirror frame
Hardwired light fixture above the mirror that is always on so you don't walk into a dark bathroom
Second low profile shelf above microwave for art display
Water filter spigot with RO filtration system
Caddy for cups, lids, napkins, and various coffee/tea items (want to help make this? Please reach out!)