You will notice a change in the woodshop. The Delta dust collector by the jointer and planer is GONE.
That end of the shop is now hooked up to the new Laguna dust collector. This install is still in progress. Thanks to James for leading the project, Joseph and Art for their assistance last night.
You need to turn on the dust collector, to use the Drum Sander, Jointer, Planer or Router table. The power button is on the control panel of the dust collector as shown. For now, all four gates are permanently open, and there is still way more power than previouly available.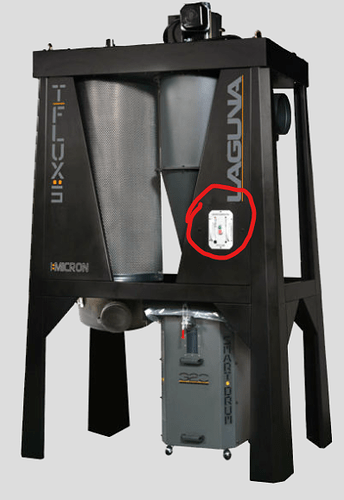 Eventually, it will automatically turn on when powering up the tools.
If you look overhead, the ducting will run the length of the shop.
Dust collection for the tablesaw and miter saw is unchanged, for now. Those will be integrated.
Dust collection for band saws will be added, as well as a vacuum hose port by the drill press.
The jointer now has a 6" outlet, which is a big improvement.