All,
We had another successful CNC SIG meeting! In this meeting we shared different CAD programs we find useful, as well as our usual show-and-tell!
vCarve - @jamesfreeman gave us a good background on why we use vCarve as the default at Asmbly. It's because they have a great licensing set up which allows makers to quickly start making. And, the software has some very useful tools, like the interactive trim tool.
The downside to vCarve is that the interface is dated. That being said, there is an update that's expected to modernize vCarve soon. We'll be on the look out for that.
@TravisGood pointed out that there's free software called Design and Make that ties well to Vectric (the maker of vCarve). The free software is located here: Design & Make - CNC Clipart Models
The kicker is that you will typically want to buy some of the designs on the design and make website. There's not expensive, and for someone who wants to make something very quickly, it's a terrific option.
Fusion 360 was tossed around by multiple people: New Fusion 360 Subscription Types: Free for Hobbyists and Startups
It's @MMcATX's software of choice. He's used it on multiple designs he's done inside his home. It's a powerful, mostly free piece of software, with some limits. It has a very useful timeline feature which allows you to quickly return to prior iterations of your model & make changes with the click of a button.

The main limit brought up was the learning curve and lack of easily accessibly CAM functionality. I think you can have a CAM set up for Fusion but you have to pay extra for the add-on…?
Now, we come to Carveco (Maker edition): Carveco Maker : Powerful, Affordable Hobby CNC Software
@SteveW has tried numerous software over time, but he's found his home with Carveco. Carveco isn't free, but Steve says it's worth it. And if you've seen anything Steve's been making recently, it might be time to give it a shot. For $15 a month you have access to 2D and 3D CAD + CAM tools. For comparison purposes, Steve used Fusion 360, and made something with Fusion, but ultimately decided to go with Carveco.

Here is an example of one of the works Steve did with Carveco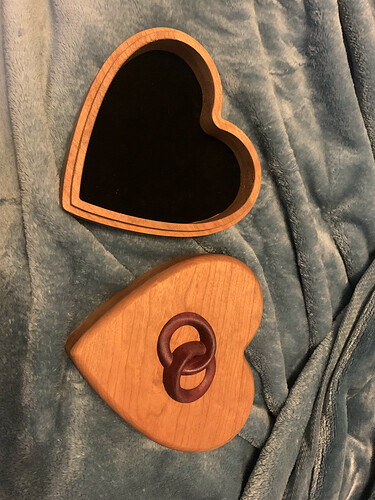 I somehow managed to miss taking a picture of @SteveW's epoxied masterpiece, but I know there will be plenty of them to see in the future.
A big thank you to @jamesfreeman for getting the Zoom set up so we could have people participate remotely. It's working out very well.
Next meeting is on July 2nd at 9am. Topic is boxes. Anything and all things box related. Boxes are cool. Let's discuss. This will likely include conversations around design, joinery, and offsets. Thank you to @SteveW for suggesting this as our next topic & keeping us all inspired.