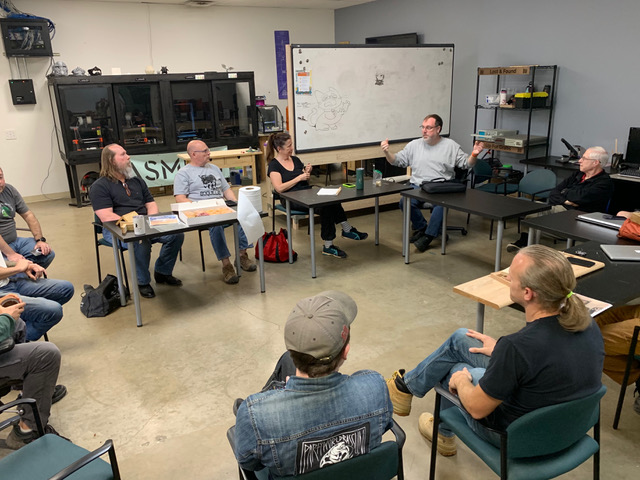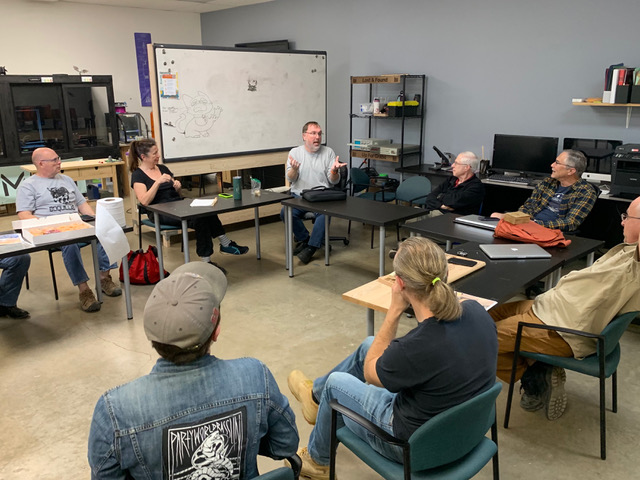 Hey all! Pictures from our most recent CNC Special Interest Group last Sunday. Wanted to reiterated how much fun the most recent CNC Sig Meeting was. I learned A TON. Figured we should make this CNC space more active on discourse since we're die-hard CNCers & can't get enough! I'm repeating the minutes from the prior meeting (it's the same as in the email I sent) for the folks who didn't get the email. New information is at the bottom.
CNC SIG Summary:
We presented projects involving AI design, dovetail joinery, relief cuts, and general experimentation. Below is tribute to the brave, wild, and curious souls who joined us today.
Danny is into peg boards. Peg it up!

Doug is a relief cutter. Whoosh! Was worried there for a second.

Mike is into digital pinball, specifically the pinball machine game "Mars Attacks!".

Christopher showcased his joinery and dovetails. He focuses a lot on designing in COBALT, an ancient computer program forged in the mountains of Ukraine.

Charlie is looking to learn about inlays. Me too!

Zora (sp??) wants to learn about inlays as well. This seems to be a hot topic.

Steve is interested in learning about design, and brought up the idea of using MidJourney for design use. It's a wonderful AI tool to use for idea generation.

Brian would like to be involved with some sort of apprenticeship if anyone's offering. I see "FREE HELP" written all over this!

Travis showed us a host of educational opportunities Vectric offers. He mentioned designandmake.com as another resource to use. Great ways to improve your skillz!

Zack, oh my, Zack! He's a one-man band who programs AI-generated images to use for CNC cutting. His eventual goal is to have AI-generated images be easily translated into g-code. Be on the lookout for this billion-dollar man!

Michael is building different types of furniture. Last time I checked he was building a mantle.

Tom is planning on retiring this year as a managing engineer. He is now looking for new opportunities post-retirement. I hope he's found a home here!

I (Joaquim) like to experiment and test out different types of cuts. I redisplayed the astronaut-themed cuts to showcase the different tests I went through. In the meantime, I am waiting for my first real inlay to dry.
I think that's everyone–apologies if I missed someone.
New Information Regarding CNC Competition, Time, & Next Meeting Date
We will be meeting at 10am on the first Sunday of every month. This means 4/2/23 will be our next meeting date. Regarding the proposed competition by @SteveW , the board approved offering a $50 credit that can be applied to Asmbly classes! More details about the competition's parameters from @SteveW 's email:
The theme is "geometric wall art".
No other parameters - use your creativity!
You are not limited to just the laguna CNCs in the workshop - use any tools you want in any location. This is about inspiring others off of a common seed. Use the lasers, the 3d printers, the lathe, whatever!!
I mentioned the idea of a $25 [$50 now!] gift card good towards an Asmbly class as the prize (that is what pushed me over the edge toward taking Matt McG's excellent Fustion 360 for CNC class last weekend).
Winner will be determined by a simple polling of those present at the meeting
This is all about inspiring each other so please create something amazing and bring it to the next meeting!!
I'm looking forward to a riveting competition & seeing everyone everyone at the next event! Make it up!
Joaquim (WAAH-KEY-MMMUH)